Blog
It is with great regret that we have to announce the cancellation of the Start of Season Lunch & 2019 LMC Championship Awards Presentation that was planned for 15th March, entirely due to a lack of interest from members. Just half the award winners had booked to go, and with a total of just 44 tickets sold, the event was simply not viable. We will contact everyone who has bought a ticket and will issue a full refund in the next few days.
The Championship awards will now be available to collect at this year's Aintree &/or Barbon events.
We aim to hold an End of Season lunch or dinner with an awards presentation in November in the hope that greater interest will be shown at the end of the year.
---
The Start of Season Lunch and Championship Awards Presentation
will be held on
Sunday 15th March 2020
at the
Everglades Park Hotel, Derby Rd, Widnes WA8 3UJ
Commencing at 12.30 pm for 1.00 pm, the event will include an excellent three-course meal, followed by the presentation of the Liverpool Motor Club Speed Championship Awards for 2019.
Attendance will be by ticket only costing just £15 per person, the ticket price being subsidised by the Club.  The dress code will be smart casual (no jeans).
 All LMC members, wives, partners and our volunteer marshals are most welcome!

The meal includes a choice of menu for each course:-
STARTER
Tomato and Basil Soup with Lancashire cheese croutons
Smooth chicken liver pate with house chutney and tomato ciabatta
Rose of melon with raspberry coulis and forest fruits
MAIN COURSE
Roast breast of chicken with spring onion and creamed potatoes, tarragon carrots and a red wine jus
Baked Haddock, anna potatoes, buttered greens, white wine and chive sauce
Butternut squash and spinach risotto with basil pesto
DESSERT
Vanilla cheesecake with raspberry coulis
Baked apple crumble with English custard
Chocolate panna cotta with vanilla Chantilly
Tea/Coffee and chocolate mints
To book tickets, please complete the Ticket Application Form on your computer, and then save it.
You then have 3 options:
We hope all our award winners will be able to join us as well as many of our regular competitors. It's a great opportunity to meet your fellow competitors in a relaxed, friendly atmosphere, without the pressure of competition.
Bed & breakfast accommodation is available for £71 per room (2 people sharing).  Simply contact the hotel and quote Liverpool MC Lunch and the date and secure the reservation with card details (but only pay on arrival of stay).
Best Western Everglades Park Hotel: Tel 0151 495 5500
Updated 05/03/2020.
Experienced and new marshals are invited to attend the following training sessions this year:
15th February – Blackburn Services – marshals' training
(Beginners' & refresher practical sessions)
15th / 16th February – Wern Ddu Quarry – hosted by Warrington MC.
Fire, Timing, Radio, Rescue, Recovery, First on Scene, Beginners/Refresher (all outdoors)
22nd/23rd February – Oulton Park – Race Marshals' Training (Speed marshals welcome)
Saturday: Post Chiefs, Flag marshals, Senior Specialist marshals and new marshals.
Sunday: Incident Officers and Trainee, Cadet, Experienced and Specialist marshals.
Fire practical training available on both days.
16th May – Lymm M6 Services – Motorsport Event set up, Practical Training
13:30 to 16:00, How to set up an event – All outdoors (Beginners/Refresher)
17th May – Lymm M6 Services – Intro to Timekeeping and Marshalling
09:00 to around 15:30,  live on-event practical training – All outdoors (Beginners/Refresher)
18th July – Blackburn Services – Fire Theory/Practical (for drivers & marshals)
5th December – Blackburn Services – First on Scene – (for drivers & marshals)
09:00 to around 15:30,  live on-event training – All outdoors (Beginners/Refresher)
Each day includes active practical sessions intended to appeal to beginners and as refresher sessions for experienced marshals too.
Just click on the relative link to apply to attend.
We encourage all our marshals to attend at least one of these events. They all count for training signatures on your record card
Attendance gives 7 points per day/session for your SD34 marshals' championship.
Updated 11/1/2020
The 2020 Motorsport UK Yearbook (the Blue Book) has been published and is now available to download in full

HERE
The terminology used for all competition licence grades has changed in all disciplines and every driver and passenger in competitive motorsport now needs to have a competition licence. Some of these are free, some are not.
Drivers competing in Sprints &/or Hillclimbs need to be aware that there have been significant changes to Section S that they will need to read.
You can also download individual sections:-
The 2020 Yearbook (by section)
The results for the Aintree Sprint held on 7th September 2019 are available to download by clicking on the appropriate link below:
Full Results Sept 7th 2019, including practice runs and the timekeeper's full data sheets.
Event Report Sept 7th 2019 by Steve Wilkinson
A fully customisable version of the full times is also available at Resultsman.co.uk – Live Timing where you can select the times for just one car or a group of cars.
We include a time for the first 64ft off the line as a time of 2 secs to the 64 feet mark equates to an acceleration of 1G.
Photos from the event would normally be available from Brian Taylor at http://www.whitedogphotography.co.uk/pages/2019-motor-sport-galleries.php 
Unfortunately, Brian was unable to be with us this time as he was being fettled by the NHS, so we send him our best wishes for a speedy recovery.
---
Wednesday 25th September
We need volunteers to help with this year's Greenpower event as once again we are looking after safety on-track for the Greenpower's eleventh annual visit to Aintree.
We need at least a dozen people to keep an eye on activities on the circuit and to report when cars stop. Your help will ensure the event runs safely.
Would you like to be involved with this unusual event? It's a great opportunity for Motorsport enthusiasts to contribute towards the careers of the engineers of the future.
There will be two 90 minute races for the Formula 24 cars (secondary education pupils) separated by a 1 hour race for the Formula 24+ cars (further education and corporate competitors).
What is Greenpower? The Greenpower Trust is a charitable organisation that promotes engineering as a rewarding career, while also focusing on sustainability, teamwork and the community.
How? Students have to design, build and then race simple electrically powered cars.  Or the school can buy a kit-car to develop themselves. Greenpower specify certain design parameters, mostly safety related, supply a standard 24v electric motor and batteries, and then the teams get on and build a car. Several of the cars contain amazing leading edge technology, and some past pupils have gone on to careers in F1 motorsport. The project is part of the National Curriculum and has now spread worldwide.
This is now a truly international event. In the last 2 years we have hosted teams from Poland, Portugal and Spain, this year there's a team coming to Aintree all the way from Argentina!
For those of you who haven't been before, there's nothing strenuous about your duty, but don't jump out in-front of one of the cars, some can be averaging over 35mph round the circuit and they don't slow down for the corners! The day is particularly suitable for our less active (or more senior) helpers as you can sit down in the comfort of your car or arm chair (if you bring one!) and watch the cars go by. Can you help?
  Click HERE for a 3 minute Greenpower video
Signing on is from 8.15 to 09.00am, and the last race will finish at approx 4.45pm. There will be Breakfast provided from 7.30am for early arrivals. Hot and cold drinks and a sandwich lunch will be provided to volunteers too, but as the lunch break is only 30 minutes long, we recommend that you bring food & drink with you, as that 30 mins includes getting to & from your post; they keep to the timetable!
We already have a few volunteers but could do with several more. Motorsport marshalling experience is not necessary and there is no need for orange fireproofs. If you can help, or know someone who may be interested in coming along to assist with this charity event, please let me know. The more people we get, the more interesting it will be for all of us!
Provisional timetable for Greenpower Aintree 2019 event:-
Date: Wednesday 25th September
06.30 – Gates open
08.15 – 09.00 Marshals Signing-on
09.00 – Marshals' Briefing
09.30 – 11.00 – Practice
11.45 – 13.15 – IET Formula 24 Race 1 (competitors ages 11-16) – (Awards at 1400)
13.15 – 13.45 – Lunch
13.45 – 14.45 – Formula 24+ (competitors ages 16-25) 60 minute race (Awards at 1500)
Approx 15.15 – 16.45 – IET Formula 24 Race 2(competitors ages 11-16) 90 Min Race (Awards at 17.15)
17.00 – Pack up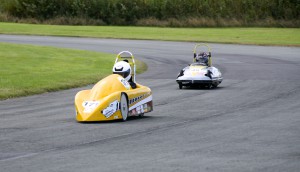 ---
If you know of anyone else who would like to come along to keep an eye on the circuit please spread the word. But I do need to know who's coming so that I can ensure there's enough food for all.
If you volunteered earlier in the year, please contact me again anyway so that I know you are definitely still going to be there.
If you can help or for more information, please contact LMC Chairman, John Harden via our secure messaging service.
Whilst spectators are welcome we'd rather you helped, even for just half a day.
Access is from Melling Road, Liverpool L10 8LF – just follow the signs for Aintree Golf Centre.
But please tell us you are coming along!
.