Blog
We've been developing a new entry system over the winter with our friends at rallies.info, and now it's ready for you to use.
We went live with the Aintree Sprints first, and now the system is live for Barbon too.
See www.liverpoolmotorclub.com/aintree-sprints for our sprints.
And www.liverpoolmotorclub.com.barbonhillclimb for the hillclimbs.
See you there!!
We've updated our results page to include details of every Sprint or Hillclimb event that Liverpool Motor Club has run from the year 2000 right up to date.
This now includes our events at Aintree, Barbon and Loton Park.
Just click the Aintree Sprints tab and select Sprint & Hillclimb Results, or simply click HERE
.
Liverpool Motor Club is pleased to announce that it has been selected by the Hillclimb & Sprint Association to receive The Russ Ward Trophy for the best event in the 2021 season of the Triple M/Pirelli HSA Speed Championship.
Each year the HSA presents the award to the Club which promotes what is considered to be the best event of its Championship season, and this year Liverpool Motor Club received the award for the September Aintree Sprint.
We were delighted to attend the HSA annual lunch at the British Motor Museum (what a fantastic place!) in November to receive the award.
We couldn't have won the award without our volunteer officials and event marshals who put in a tremendous amount of often quite physical work during the season to make our events successful and safe – thank you to every single one of you!
JH
We have added a list of class records set at the Barbon Hillclimb.
Two sets of records are shown:-
National Class Records (ex-National A)
Inter-Club Class Records (ex-National B)
In each case, the records are displayed using the current class structure.
You can view or print the records here: Barbon Class Records
.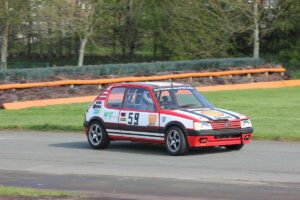 See our dedicated website for the popular Liverpool MC Speed Championship HERE: www.speedchampionship.com
Simply click the link to find the latest news including qualifying rounds, latest scores, qualifying times and (after the final round) the Championship Results.
Awards
After a great deal of deliberation, we have reluctantly decided not to hold an annual dinner and awards presentation this time. Covid-19 hasn't gone away and the advancing age of many of our competitors, coupled with the increasing rate of infections, has been taken into account and we don't feel it is appropriate to hold a dinner whilst the risk of infection is still so high. We shall arrange to send trophies to the winners in due course. We hope you appreciate why we have reached this decision.