Barbon Hillclimb Reports
Barbon Inter-Club Hillclimb 15th July 2023
Whitehead fends off the opposition –   Report by Steve Wilkinson

With a somewhat dicey weather forecast for the afternoon the event got underway with practice. Thankfully the organisers decided to restrict practice to just one run so that they could get ahead of the impending monsoon. As it turned out a rain squall swept in during the second class runs but after lunch the track remained dry for two further runs. Then with the clouds building up and rain sweeping into the valley the organisers made exactly the right decision and pulled the plug at 2:45pm.
Running through the programme we started off with the Standard Car classes. There were solo wins in SA for Phil Howarth in the MG ZR140, David Goodlad set a new PB en route to a solo win in class SC with his Clio and Peter Messer took his MX5 to a solo win in class SD.
We then moved into the Road-going classes. In 1A for the Up to 1400s Sam and Ryan Billington, Harewood regulars in their 205, moved up to first and second as they relegated initial class leader Steven Walford in the Mini to third. During the first class run Wayne Gregory had a big one when he lost control of his nicely restored Mini at Richmond. Thankfully Wayne was fine but the Mini was decidedly second-hand. In 1B it was Ian Butcher in his Integra who set the pace maintaining his lead throughout. Russell Thorpe took second place with his first run but after a grassy excursion at the hairpin on his second ascent retired the Renault 5 GT Turbo with a damaged splitter. Third went to Jonathan Baines in the Clio who also set a new PB. In 1C Jack Walker led throughout in his Impreza whilst Steve Murphy took second in a Mini Cooper S R53. John Mansfield, who attended the very first Barbon hillclimb as a 12-year-old, then took a solo win in 1D with his 1966 MG B Roadster that he bought 56 years ago. In 1E Peter Herbert led throughout in his tastefully modified Porsche 911 with Aaron Perrott's Aston Martin Vantage S in second and the rumbling Morgan Plus 8 of Dave Everett third. Steve Wilson then took a solo win in 1F in his Elise whilst Rob Holt also took a solo win in 1G with his supercharged Elise.
Into the Kit Car classes where we were treated to a ding-dong battle in 2A. Chris Bramall led initially in the Caterham Super 7 only for his son Matt to move into first. Next into the lead was class record holder Michael Bellerby in the Sylva Striker. On the third class runs Matt Bramall took the lead back only for Michael Bellerby to snatch it back 4 cars later. In 2B Nigel Fox took a solo win in his 2-litre Zetec-powered Caterham Super 7.
Into Mod Prods and in 3A we had another monumental battle. Roy Bolderson would lead throughout in the Bodspeed Mini. David Smith held second initially in the Mini-Marcos but got dumped to third on the third class run. Smith fought back and recovered to second with third going to Darren Roberts in his Nova who ended up just 0.48 behind class-winner Bolderson! Anthony Middleton took a solo win in class 3G with his Westfield, his first run time was good enough for second FTD.
The two Sports Libre classes didn't produce any close battles but it did feature some really interesting cars. In 4A Ian Medcalf took the win in his Mighty Mouse Fiat 500 special saloon setting a new PB; second went to Kenneth Pickering who was out for the first time in his MNR LMP which was suffering from new car issues. In 4B Steven Rushworth took a solo win in his Morris Minor complete with supercharged MX5 power unit and a nifty rear wing mounted on the back side of the roof.
Into the Racing Car classes with 5A and Eve Whitehead on her first class run set what would be not only the class winning time but also FTD with the Craig Powers' OMS 2000M. Second was taken by Stuart Mather who substituted his 600cc Jedi Mk 4 for his usual OMS Hornet. In 5B the Formula Ford battle saw three superb cars take to the hill. Top spot went to Phil Nelson in his Hawke with Phil Perks in the Royale just 0.9 seconds adrift whilst Graham Curwen was third in his Van Diemen a couple of seconds adrift with what appeared to be a recalcitrant gearbox.
Into the Classic, Historic and Vintage classes and leading the way were the road-going cars. Damon Green took the class win in 6A with his rally-prepared Volvo Amazon which he conducted up the hill in flamboyant style. Second in 6A was John Sloan in his Mk2 Escort with David Baillie third in the Lotus Cortina, raced in period by Peter Procter. Angus Buchan took a solo win in 6B setting a new PB in his Terrapin Mk 5 SR falling just 0.7 short of a new class record. In class 6C for the Pre-War Austin Sevens it was a battle of the Pigsty Specials! Paul Geering led initially whilst Stuart Blackham shadowed him until the fourth class run when he snatched the class win with a new class record consigning Colin Danks' 2010 record to the history books. Third spot went to Colin McLachlan in his Austin 7 Monoposto known as The Moose as he finished well clear of the rest. In Class 6D class record holder Keith Beningfield took the win with his supercharged MG TC with that man Graham Curwen in second in his Buckler Mk 5. The lovely vintage Alvis 12/70 Special in the hands of Ian Wozencroft and Ian Smith completed the class.
The final class for the Rally Cars only attracted one entry but Chris Thomas gave his Talbot Sunbeam, complete with two litre Vauxhall Red-top, its head as he took a solo win.
Once again, a massive thank you to the marshals and volunteers who make the event possible. Without their support and the support of the competitors, Cumbria's only hillclimb course would be lost.
One practice run, four competition runs with some extremely close competition, nearly 300 starts in the day and a 2:45pm finish to proceedings – This was Club motorsport at its very best!                              Report courtesy of Steve Wilkinson
The full results for this and all Liverpool Motor Club events can be found HERE
There are lots of photos taken at the event on our Friends of Barbon Hillclimb Facebook page, on Steve Wilkinson's own Facebook page: www.facebook.com/Sprinty  and on the website of Phil James: www.pro-rally.co.uk
---
Barbon Inter-Club Hillclimb 10th June 2023
Wood's FTD 1-2 as records fall   –   Report by Steve Wilkinson
Driving up to Barbon on Saturday morning the weather looked set fair although there was a strong cross-wind on the motorway. Once at the venue, the wind started to decline in strength and as it did so the temperature rose. With a small number of entries, there was always going to be a chance of multiple timed runs to look forward to.
The timed runs kicked off before lunch with the Standard Car classes where Phil Howarth, David Goodlad and Peter Messer all took solo wins and Messer also breaking his class record. In Class 1A Andy Harrison recovered from a first-run excursion at the hairpin to take the class win in the Whizzo Williams Tribute Mini with Steve Price in the Nissan Micra S second and Peter Houghton third in his Mk 2 Mini – all three left with new PBs. In Class 1B Ian Butcher took the class win in the Integra with Nick and Steve Murphy second and third in their shared Proton. Jonathan Baines took fourth in his virtually standard Clio 200 Cup ahead of the Bland & Gibson Fiesta – surprisingly only the Top 3 didn't set new PBs. In 1C Ken Pickering took a solo win in his VW Tiguan. In 1D there was a Honda S2000 1-2 with Lee Early taking the win ahead of Ray Worrall by the narrowest of margins possible. Mazda MX5s filled the next four places with Oliver Chilton being third. In 1E Robbie Birrell took a solo win in the Cayman which included a hair-raising escapade at the Hairpin on his third run when he outbraked himself. In 1F Steve Wilson led initially then on the second run Pat Sefton nearly scrapped his Elise at the hairpin when he overshot the corner and demolished a huge straw bale. Sefton was back out for the third run with the battered car and took the lead which he extended on his fourth run.
Into the Kit Cars and in 2A where Michael Bellerby led initially in the Striker. On the second run Matt Bramall in the Zetec-powered Caterham that he shares with his father Chris, grabbed the lead which he held to the end. Chris Bramall took third with Roger Abbott fourth in his Sigma-powered Caterham. In 2B Nigel Fox brought his 2-litre Zetec-powered Caterham home in first with Nigel Hinson, in the two-litre supercharged Duratec-powered Caterham, second and Mathew Crawford third in his Westfield.
In the first of the Mod Prod classes (3A Up to 1400cc), Roy 'Bod' Bolderson led throughout in his Bodspeed Mini despite a huge lock-up on his third run. Andy Walkingshaw was second in his Mini with David Beechey third in his Peugeot 106. In 3B Justin Andrews was running solo but more importantly, was giving his 1.4-litre Turbocharged Impreza its debut. He was satisfied just doing two practice and one timed run before heading home with a checklist of modifications and an intact engine. In 3C Michael Woodhouse took a solo win in his Celica GT4 before we moved into the Mod Prod Kit Cars. In 3G Anthony Middleton set a PB en route to the class win in his Caterham with Robert Gate in his 6.7 litre Bentley a sedate second. In 3H Chris Boyd flung the Sylva Riot to the top in ever-decreasing times as he took the class win ahead of Harry Moody in the Westfield Megabusa. We then moved into Sports Libre where Steve Hill in his re-engined Mk 2 Escort and Steven Rushworth in his supercharged Mazda-powered Morris Minor each took solo wins.
Next were the Racing Car classes and this also featured the battle for FTD. In 5A Robin Wood set a pace on his first run that nobody could better, not even himself. He rocketed to the top in the shared Force PT posting what would be not only the class winning time but also FTD. His brother Anthony responded on his first run with a new PB which secured him second in class and also 'second FTD'. The only blot of their collective copybook came when Robin understeered into the barriers at Turn 1 and damaged the nose of the Force. Shaun Crouch took third in class with RBS 8A whilst Eve Whitehead (OMS 2000M) and Paul Gibson (OMS 3000M) set PBs en route to fourth and fifth in class. In 5B the Formula Ford class was a two-car battle resolved in favour of Phil Perks in his immaculate 1979 Royale RP26 with octogenarian Graham Curwen second in his Van Diemen. In 5C Jim MacDiarmid took a solo win and 'third FTD' in his Force PC finishing over a second shy of his PB. In 5D Chris Spencer in the venerable Scarab Mk 3 Formula Vee, now sporting a 1770cc engine, took a solo win.
In the first of the Classic classes for Road Going Cars Terry Deere romped to the class win in his Talbot Sunbeam Lotus establishing his Barbon PB. Richard Derrick brought his Mini Clubman home in second with a new PB whilst third went to Thomas Robinson in the Porsche 911 Carrera who also establish a Barbon PB – all three being Harewood regulars. Michael Wills was fourth in his MG Midget whilst David Baillie was fifth in his ex-works Ford Lotus Cortina on his Barbon debut. In the Pre 1962 Road Car class Mark Milne in his rare Lotus Mk 6 emerged victorious in his battle with Keith Thomas in the Mk 5 Buckler. Milne led after the first runs, then Thomas took over only for Milne to retake and then extend his lead. Graham Curwen was a distant third after his Mk 5 Buckler suffered from a chronic misfire and only managed one timed run – Curwen had driven the car to the event to blow the cobwebs off.
In the final class for Rally Cars, John Stone dominated in his mighty VW Polo GTi R5 and demolished the class record in a great display of power sliding. Chris Thomas took second with a new PB in his Vauxhall-powered Talbot Sunbeam whilst third went to Neil Pilkington in his BDG-powered Escort also with a new PB.
Despite the low number of runners (sadly, just 67 starters), the small entry provided some cracking class battles and two class records. Once again the razor-sharp organisation coupled with the stalwart Barbon Manor marshals provided great entertainment in a safe environment – long may it continue.
Two practice runs and four competition runs, 387 starts in the day – is that another new record for Barbon?
The full results for this and previous Barbon Hillclimbs can be found HERE
Lots of photos taken at the event are on our Friends of Barbon Hillclimb Facebook page, and on the website of Phil James: www.pro-rally.co.uk
---
Barbon Inter-Club Hillclimb 16th July 2022
MacDiarmid's In Control   –   Report by Steve Wilkinson
As I arrived at Barbon Manor there was barely a cloud in the sky. There were occasional clouds drifting through but for most of the day, it was hot and dry. Practice was somewhat disjointed due to a recurrent timing glitch but once this was resolved there were fewer interruptions. Practice did see a few issues; Steve Murphy's rapid Mini developed an engine issue so he switched to the Proton Coupe he drove in June; Charles Graves had to retire his bellowing Sunbeam Tiger with brake failure; finally, Richard Derrick ground to a halt on his second practice run when his Mini ran out of gears.
After the lunch break, the competition runs started and first on the hill were the Standard classes. In SA, the Up to 1400 Saloon Car class Phil Howarth was running solo in his MG ZR140 however, he was close to his record on his first two runs and on his third clipped over a tenth off to end his day on a high. Next was SC the 1701 to 2000cc Saloon Car class and it was a Birrell 1-2 in their Clio. Jonathan Birrell broke the class record on his first run and took a further slice off on his second. On the third run his father Robbie snatched the lead and the record only for Jonathan to take both back with a super final run charge. In SD the Up to 2000cc Sports Car class Peter Messer in his MX5 clipped three-tenths off the record on his first run then cruised to the class win with Nigel Pratten's MG TF160 over three seconds in arrears.
Into the Road Modified classes and first on the hill were the 1401 to 2000cc Saloons in 1B. Ian Butcher (Honda Integra) first run was a couple of tenths shy of the class record and well clear of the rest so at that point he started to pack up his Integra. Nick Murphy initially held second in the Proton but, on the second run, his father Steve grabbed the place demoting his son to third. Nick then took back second spot on the third runs, leaving Steve in third. Andrew MacAskill worked his way up to fourth in his Polo, the Scot who lives in Wick some 420 miles North of Barbon was making his Barbon debut and is eager to get back again next year.
In Class 1C for the Over 2000cc Saloons the four runners each took just two runs. Jack and Andy Walker both set new PBs as they took the 1-2 in their shared Impreza. Colin Smith was third in his BMW Mini Cooper S with Julian Davies in the bargain basement Saab 900 Turbo fourth. All three entries in the first of the Sports Car classes were non-starters so the Over 2000cc class 1E was next. Adam Riley, who had been inside his class record in practice with his Honda S2000, lowered his class record on his first run and dominated proceedings. Peter Herbert brought his 911 home second with David Exton third in his 350Z. Howard Cressey was fourth in his Cayman with the Everetts fifth and sixth in their Plus 8. Phil Wood took a solo win in 1F the first of the "Elise classes" as did Rob Holt in the "other Elise class".
Into the Kit Car classes and in 2A for the Up to 1800cc cars Martin Walker led initially until on the third run Michael Bellerby brought the Sylva Striker home first. Roger Abbott, despite some extensive exploration of the undergrowth at the hairpin during first practice, was third in his Caterham and Phil Hallington fourth in his Westfield – all but Bellerby set new PBs in the process! In class 2B for the Over 1800cc Kit Cars, Nigel Fox cruised home in his Zetec-powered Caterham whilst Nigel Hinson, who was another to have issues at the hairpin in practice, was second in his Duratec-powered Caterham.
Into Mod Prods and in 3A for the up to 1400cc cars proceedings followed the form book. David Smith in his indecently rapid Mini Marcos set new PBs on each run to maintain his lead throughout. Darren Roberts knocked chunks off his PB in his rally-prepared Nova in second whilst David Spaull was third in his refurbished Mini now sporting a 1340cc engine. Ian Johnson set new PBs on both his runs to take a solo win in the two-litre class 3B, despite gearbox issues. In class 3E for the Over 2000cc Sportscars, it was a family affair. Ben Butterworth set a new PB as he chased his father Simon home. Simon not only set a new PB but as he was the class record holder emphasized his authority by being the quicker of the two on every run.
Into the Modified Kit Car classes and in 3G Anthony Middleton set a new PB en route to the class win in his Westfield whilst Darren and Gareth Coleman were second and third in their shared Sylva Striker. Initial leader in 3H, Chris Boyd in the Sylva Riot, got demoted to second by Harry Moody in the Westfield who was the closest to his PB.
It was then the turn of the Racing Cars to attack the hill. In Class 5A for the Up to 1100cc cars, the Force PT of the Wood brothers dominated. Robin, who got to within a tenth of the class record, led Anthony all day. Shaun Crouch, who is rapidly getting the hang of RBS 8A, was third. Paul Webb, on his first visit to Barbon with the OMS PR, was fourth with Eve Whitehead the first of the OMS 2000M drivers in fifth and Steve Rushworth sixth – all the drivers in this ultra-competitive class set new PBs. In class 5B for the Formula Fords, it was Phil Perks who set the pace and took the win in the Royale RP26. Octogenarian Graham Curwen was second in the Van Diemen but he was somewhat distracted as he was also competing in class 6D with his Buckler!
Jim MacDiarmid on his way to FTD. Photo by Steve Wilkinson
In Class 5C for the 1600cc racing cars, Jim MacDiarmid was the quickest overall throughout the timed runs taking the class win and FTD. On his third run, Jim set a new PB going sub 24 seconds for the first time in the Force PC. Second in the class went to the enthusiastic Chris Spencer in his super Scarab Formula Vee and he too set a new PB. John Graham had his Gould GR55B on track in the Over 2000cc class 5E, his first drive at Barbon in 12 years. John, who suffered a serious hand injury last year, took a solo win but did appear to be having issues with his hand and was off the FTD pace.
Into the Classic and Historic classes and first up was 6A for the Roadgoing 1962 to 1991 cars. We were down to just five runners after lunch and it was Thomas Robinson in his TVR 1600M who led throughout. Edward Roberts, who was demoted to third on the second runs, fought back in the Stag to grab second spot. Robert Gate put in three 35-second runs and finally came home third in his Elan. Fourth went to John Sloan's Classic rally prepared Escort with John Mansfield in his MGB Roadster fifth – all five drivers set new PBs. Into Class 6B for the 1961 to 1991 Racing Cars and it was Angus Buchan in the brilliant Terrapin Mk 5 SR that took the win with a new PB. Malcolm Wishart was second in the Fisher but withdrew after just one run when the Alfa Romeo engine had issues. Next, it was Class 6C for the Austin Sevens. Paul Geering in the evocative Pigsty Special got to within a quarter of a second of the class record as he dominated proceedings. Donald Skelton took second in his Special with Geoff Cowell third in the Ulster Special. All seven competitors set new PBs but special mention must go to Shirley Tull who was at Barbon for the first time in the 1936 car that she and her husband constructed during lockdown. Shirley established her PB on the first run then knocked chunks off that time on the second and third ascents – not bad for a two-grand investment! Next, it was Class 6D for the Pre 1962 Roadgoing cars William Irving, on his first visit to Barbon with the Alvis Silver Eagle, dominated with the three fastest times! Second place went to Graham Curwen in the Mk 5 Buckler with Ian Wozencroft third in the Alvis 12/70 Special. Fourth went to the glorious Talbot 105 Sports of Trevor Corner whilst Keith Thomas, the only driver in the class not to set a new PB, was fifth. Sixth went to Jane Corner in her lovely Lagonda Rapier whilst in seventh and last it was Ian Smith who kept us all entertained with his antics at the hairpin in the Alvis he shared with Ian Wozencroft.
The final class was for the Rally Cars and both drivers were highly competitive. Chris Thomas took the win in his Talbot whilst Neil Pilkington, who made his Barbon debut in June, was second. Both drivers set PBs in the process of entertaining the crowds at the hairpin.
As ever a big thank you to all the volunteers who made the event possible. Also, a big thank you to the marshals who stood out all day in the soaring temperatures and kept all the drivers safe. It was great to see that we were able to draw a large crowd to the meeting and also to provide such an enthralling day of motorsport. Long may it continue.
Lots of photos taken at the event are on our Friends of Barbon Hillclimb Facebook page, and on the website of Phil James: www.pro-rally.co.uk
---
Barbon Inter-Club Hillclimb 11th June 2022
MacDiarmid's Last Run FTD     –   Report by Steve Wilkinson
Barbon Manor in June should be wall-to-wall sunshine but as I arrived at the venue the wind was ripping through the valley and the clouds filled the sky. The sun would occasionally break through but it would remain cool due to the wind chill. The meeting started promptly at nine-fifteen and after two practice runs, we started the timed runs before the lunch break.
First to hit the hill were the Standard classes. In SA Phil Howarth took a solo win in his MG ZR140 whilst equaling his own class record! In SB John Moxham took a solo win in his Mini One whilst his Mod Prod 205 undergoes a rebuild. In SC the father and son team of Robbie and Jonathan Birrell recorded identical times in their Clio whilst David Goodlad (Clio) came home third. Peter Messer then took a solo win in SD with his Mazda MX5.
Into the Road Modified classes and in 1A Andrew Till led initially in his Fiesta then Wayne Gregory stormed to the top in his Austin Mini to snatch the win. In 1B, where we had eight entries, Ian Butcher in the Honda Integra set a new PB and grabbed the lead he then packed up to watch the action for the rest of the day before heading off to Three Sisters. His time wasn't beaten so he took the class win. Nigel Trundle came home second in his Abarth 500 with Shane Dyson third in his Renault 5 GT Turbo. The Murphys from Kendal came home fourth and fifth in their Proton Coupe with Nick half a second quicker than Steve. Into 1C where Alex Gilchrist-Jones shot into an early lead in the Mitsubishi Evo 9 GT. On his second run, Alex was a tad late on the brakes at the hairpin and slithered off track, across the grass and collided with one of the giant straw bales. That was the end of his day as the car was beyond immediate repair but he did take the class win. Jack Walker was second in the family Impreza whilst Zoe Shearman was third in her Toyota Yaris GR.
The sports cars were next and in 1D it was a Honda S2000 1-2-3 with Michael Thomson leading throughout as Matt Rowe moved from third to second ahead of Lee Early. In Class 1E Adam Riley, reigning Harewood Champion, chopped over half a second off the class record on his first run and then lowered it by a further tenth after lunch. His third run ended in a rotational delay at Lafone Hairpin when he looked set to make it three in a row. In second place it was David Everett in the Morgan Plus 8 whilst his wife Tanya was third on her competition debut. Phillip Wood then took a solo win in 1F in his Elise 111 and in 1G there was another solo win for Rob Holt in his Series 2 Elise which is now supercharged.
It was now the turn of the Road Modified Kit Cars and in 2A initial leader Matt Bramall in the Caterham 7 got relegated to second after lunch by Martin Walker in the Westfield. Neither driver improved in their third runs and this left the door open and Michael Bellerby in the Sylva Striker slipped through to second further relegating Bramall. Bob Bellerby, who was sharing his brothers Sylva Striker, took fourth and Roger Abbott was fifth in his Caterham. In 2B Nigel Hinson led initially in his Duratec-powered Caterham but after lunch, he got pushed down to second by Nigel Fox in his Zetec-powered Caterham. John Sharples took a solo win in 2C in his Locost setting a new PB in the process.
The Classic and Period cars were next and provided entertaining battles. In 6A, the Classic road cars, Andrew Webber led throughout in his Lotus Elan Plus 2 extending his lead after lunch with a new PB whilst former racing driver Steve Cole was second in his Mk1 Ford Lotus Cortina. Edward Roberts brought his Triumph Stag home in third. In 6D, the Period Road Car class, it was Keith Beningfield in the screaming supercharged MG TC who led from the start whilst the Mark Five Bucklers of Keith Thomas and Graham Curwen battled for second spot which went to Curwen's immaculately restored car. John Hunter brought his Vintage Riley TT Sprite home fourth with a new PB.
Into Mod Prod territory, in 3A for the up to 1400s it was a West 1-2 with son Nick beating dad David in their ex-Depper Mini which looks immaculate in its new livery. Ian Johnson then took a solo win in 3B with his rapid Honda Civic. In 3C Chris Edwards in the Mazda 323 GTX was slowly getting close to his PB on his first two runs and then on the third run he went sub 26 for the first time, shattering Richard Hargreaves' 12-year-old class record from 2010. In 3D Paul Barker took his Toyota MR2 Mk 1 to a solo win with a PB. In 3E class record holder Simon Butterworth took a solo win in his Porsche Boxster. In the final Mod Prod class, Anthony Middleton took a solo win in his Dunnell-Zetec powered Westfield in 3G.
There was just the one Sports Libre entered but it was a little cracker. Ian Medcalf had his superb Fiat 500 Special Saloon on track. The car has a spaceframe chassis clothed in aluminium with a fibreglass body and nowadays runs a BMC A-Series engine. Medcalf managed to carve over two seconds off his PB.
With just the one entry in the Rally Car class, it was a solo win for Neil Pilkington in the Mk 2 Escort. In class 5B we had three Formula Fords out on track and the results followed their previous performances. Up front, it was Phil Nelson in his historic Hawke DL2B from 1971 who took the class win. Phil Perks came home second in his 1979 Royale RP26 whilst in third, it was octogenarian Graham Curwen in his 1991 Van Diemen, the latter being somewhat busy as he was also running the Buckler in class 6D.
The battle for FTD involved the final two classes – 5A (Up to 1100 Racing Cars) and 5C (1101 to 1600). Initially, Jim MacDiarmid led in the 1400cc Force PC but the battling 1100s of the Wood brothers started to close in. Anthony Wood got to within 0.16 of MacDiarmid's time on the third run and then his brother Robin just went into the lead by a couple of hundredths. MacDiarmid was the last car on the hill and as he headed into Richmond he was just leading. He not only held onto the lead but extended it as he went into Lafone Hairpin snatching back FTD in his last-ditch effort. Second in the 1100 class was Anthony Wood with Eve Whitehead in the OMS 2000M third whilst second in the 1600 class went to Nick Scott in the Force TA.
Two practice runs, followed by three competitive runs and a nice sensible finishing time was the order of the excellent day's motorsport on the hill.
As ever, a big thank you to the members of Kirkby Lonsdale MC and Liverpool MC who set up the venue, the marshals and the Barbon organising team, as without all their efforts we wouldn't be able to enjoy such superbly competitive motorsport at spectacular Barbon Manor.
Lots of photos taken at the event are on our Facebook page, and on the website of Phil James: www.pro-rally.co.uk
---
Barbon Interclub/National Hillclimb 3rd July 2021
Another Superb Speed Hillclimb  – Report by Keith Thomas

The second Barbon meeting of the year which was also a round of the British Hillclimb championship had an over-subscribed entry list like most events this year and like the June meeting, it was a fantastic event although the superb June weather must have forgotten to put Barbon's July date in its diary!
The threatening sky in the morning did materialise into a few really heavy showers before lunch but the event stayed dry in the afternoon, in fact at times it was so hot the tarmac dried out rapidly and it was a welcome sight to see stream rising from the track surface and the gazebos and awnings. Once again because of MSUK rules no spectators were allowed; this was a great pity because the competition among the top guys in the British Hillclimb Championship was really intense, current British champion Wallace Menzies and second place guy Alex Summers were pushed hard all day by the other championship contenders as well as each other and at the end of some fantastic committed driving they were only separated by a fraction of a second unbelievably Alex Summers was only 0.18 from equalling the hill record set in 2015 by Jos Goodyear.
Wallace had his 3300c, reputedly 700BHP Gould with loads of grunt and torque, Alex was in his 2650cc DJ Firestorm a car with much smaller engine but just as quick. The event was also a round of the Austin 7 Bert Hadley championship so lots of Austin 7 based cars taking part although looking a rather different breed of animal than the cars that left the Austin factory in the 1920s and 30s.
As usual, Liverpool Motor Club did a fantastic job organisationally, the marshals from many clubs did a superb job too as did the medical team who had to attend to Dalbeattie resident Allan McDonald when his 400hp, 2.4 litre, 4-wheel-drive Morris Mini Evo attacked the Armco. Fortunately, a quick thumbs up showed he was ok and without damage to the driver, though the same cannot be said of the Mini, this is a real wolf in sheep's clothing and it is unbelievably quick.
When the debris had been swept up the recovery vehicle brought them back to the paddock, the bits were loaded into Allan's trailer with the jovial Scot still smiling and promising to be back on the hills very soon. We look forward to his return just as much as him but a bit of mid-night oil will be needed before it's ready so good luck and God-speed with the rebuild.
What a shame there were no spectators to witness such a well run event and such a competitive event where despite the showers at times the hill record was so nearly broken by very the brave efforts of the championship runners.
Organising a speed hillclimb that constitutes a round of a national championship on what was 24 hours earlier a road that is part of a livestock farm takes a lot of extra work than venues that have permanent facilities. Bringing timing gear, timekeeper's caravan, secretary's office and toilets and pegging out the paddock with competitors numbers and even their names was a mammoth task.
Less than two hours after the event was finished everything was removed and cleared off the field and the pastoral landscape that is Barbon reverted to its normal state with cows peacefully chewing the cud whilst gazing down at the picturesque little church of St Bartholomew whose foundation stone was laid by Lady Shuttleworth in 1892.
It's the Shuttleworth estate on which the Hillclimb is held so we are very grateful that so long ago they designed the road with various bends and a hairpin with a future Hillclimb in mind! (Back in 1898, they didn't really think it might be used for motorsport, but it's nice to dream!)
The equally famous Barbon Inn has provided food and accommodation for the last two or three centuries and of course, it was full again at the Hillclimb weekends with competitors and officials, the event bringing welcome revenue to the local community.
Long may this unique event continue and a very sincere thank you to all that have made it possible by working tirelessly, overcoming everything thrown at them by the Covid epidemic, it was really appreciated and bodes well for the future.
Keith Thomas (whose Buckler also took part in the first Barbon Hillclimbs in the early 1950s)

---
Barbon Nat A/B Hillclimb  – 6th July 2019
Hall on Top at Boiling Barbon                                                                                        
Report by John Brown & Jerry Sturman with acknowledgements to the Hillclimb and Sprint Association's magazine – SPEEDSCENE
In a repeat of his comeback success in the car at Gurston in May, Will Hall stormed the Force-AER to a run-off win and FTD when the British Hillclimb Championship circus travelled to Barbon for the start of the busiest weekend of the season, with rounds across the Pennines at Harewood scheduled for the following day.
In somewhat better conditions than those at June's National B event at Barbon, Hall's winning shot came at the end of the closing shoot-out, following an epic opening run-off duel with Dave Uren that echoed their June Shelsley battle last year. This time the result went in Uren's favour as he snatched the win in his Gould-NME by that same hundredth of a second margin. Wallace Menzies kept a watching brief in third place, shadowed by his 2019 rival Alex Summers. But in the final shoot-out the tables were turned as Summers, despite the DJ Firestorm V6's slight power disadvantage on the short, sharp Cumbrian blast, edged Menzies down to third ahead of Uren to run just eight hundredths shy of Hall's FTD. So once again, with most of the opposition scrapping for the minor placings it was Menzies and Summers that retained a firm hold on the championship.
The expected challenge from Sean Gould ended during first practice, when a broken rear pushrod sent the GR59 skating off before the fast Richmond left-hander where it sustained enough damage to sideline the car for the weekend. Sean and Graham Wynn spent the afternoon modifying the settings on Wynn's sister car to ensure that it could safely run at Harewood the following day.
Richard Spedding, driving a later version of the car in which Jos Goodyear set the hill record four years ago, headed the chasing pack with fifth place each time in his supercharged GWR Raptor 2 to maintain a narrow third place advantage over the flying Uren on the series table. He was chased home each time by Robert Kenrick who, true to form, qualified each time with successive class records, but this time narrowly failing to match them in the run-off itself. Next up in the opening shoot-out, seventh place was only the start of another dire day for Trevor Willis  after he found neutral at Lafone Hairpin. He got no farther than Crabtree in the second stanza, spinning the OMS V8 out of the points altogether. His place behind Kenrick was taken by Nicola Menzies, delighted to have scored in both run-offs with the Gould-NME for her best combined result of the year.
Edging in front of Nicola by three hundredths in round 15, James Baxter continued his successful season in the ex-Marsh/Wiltshire Gould V6 with his fourth scoring shot of the year. Lee Griffiths got his now normally aspirated, but larger engined OMS-Suzuki into the points for the first time this season with eighth place at the end ahead of Steve Marr, who was sharing Spedding's Raptor for the weekend. The final points scorer was Kelvin Broad, tenth each time as he, too, got his first 2019 points on the board in the Force TA. Non-scorers in the opening shoot-out were Dave Warburton and Eynon Price, while Matt Ryder qualified the Empire Evo2 for the second run-off but withdrew with starter motor problems.
A large variety of cars were competing in several championships during the class runs, over half of them running in the B licence classes. Alan Mugglestone won the opening Road-going class  by just under a second from son Nick in their shared Mazda MX5, with Andrew Till third. Following a change of car and class, Thomas Robinson now in his Porsche 911 joined Peter Herbert's example in the next class but the winner, by over three seconds, was Chris Berrisford, all the way up from London in his Subaru Impreza. Martin McHugh led the Specialist class after the first runs in his Morgan Plus 8, but despite finding another five hundredths second time up he was eventually pipped by an even smaller margin by Leon Franks' Sylva Striker.
Robinson's change of class left Eric Morrey alone in his Hillman Imp and after a slow opener, mechanical fettling cured the problem and Eric improved on his class record. Mitsubishi man Stephen Moore won the battle of the two long distance travellers in the large engine Modified class with a time three tenths outside Keith Edwards' 10-year-old record, Subaru specialist Geoff Twemlow suffering a broken drive shaft on his second run. With only single entries in the Sports Libre classes, Ben Lovell in his supercharged OMS and Allan MacDonald's amazing Turbo 'Mini' Evo took the awards.
As we've seen, Robert Kenrick reduced his own record in the up to 1100cc class in both runs to take it below 22 sec for the first time, a second and a half quicker than Eynon Price whose Force who was unable to take a second run owing to a broken gear linkage. Third in class was Darren Gumbley, his Kawasaki engine finally running well after an ongoing engine problem had been sorted. Wil Ker and Ben Hamer's shared turbo-charged OMS-Kawasaki were next up.
Phil Perks equalled his own record in winning the Formula Ford class in his Royale from Graham Curwen and Ed McDonough. David Warburton, unable to take his second run because of a wiring issue with his paddle shift, fortunately needed just one run to win the 1600 Racing Car class from Matthew Ryder. Lee Griffiths ran alone in the 2-litre normally aspirated class but Richard Spedding, sharing his car with Steve Marr in the forced induction class, had to come from behind to defeat Kelvin Broad to the class win after trouble getting off the line in the first run.
Will Hall was on top form at Barbon and either of his runs, both within a hundredth, would have been enough to win the class, with Wallace Menzies closing to within a tenth. Trevor Willis, Alex Summers and Dave Uren rounded off the top five, all covered by just a quarter of a second,. Single runners in the two historic classes saw wins for FF1600 runner Graham Curwen now in his rare Buckler-BMC and Jonathan Baines' FF2000 Royale RP30, fresh from a class record at Aintree the previous week.
The Lotus 7 Club Speed Championship visited Barbon for the first time and their various class records were established by Richard Abraham, Clive Marsden (on aggregate from Alan Bowler), Richard Price, Michael Sankey, Mark Durrant and fastest of all Tom Price in his Suzuki powered Caterham. Unfortunately Dave Gemzoe outbraked himself into the hairpin on his first run and impacted heavily with a straw bale, but he was quickly out of the car which was a little the worse for wear.
In the other B licence classes, Daniel Head and Jack Walker were closely matched in SB in their Suzuki Ignis, the former winning by a mere hundredth in the 1400-1700 Standard Saloon class. Two Minis took on a Peugeot 205 in 1A, the smallest engine Modified saloon class, Richard Derrick's 1275GT staying ahead of David Wiggins in the 205 to take the honours. The more experienced Nigel Trundle in his Scirocco beating hillclimb debutant Joseph Quirk's Clio in 1B for up to 2-litre modified saloons, while Michael Thompson edged out Ray Worrall in the sportscar division (1D) in a Honda S2000 duel. A rather more unequal duel in the 1F Lotus class saw the Elise of Robert Holt lose out to Robbie Birrell's Exige V6 Cup to the tune of five seconds. The only entrants in 3E Modified over 2-litre Sportscar class, Simon won the battle of the Butterworths against Ben in their shared Porsche Boxster S.
There were also unchallenged wins for Anthony Middleton (2B – Westfield), Graham Kearsley (3C – Subaru Impreza) and Mark Davenport (3G – Sylva J15) with the latter beating his own class record.  Peter Garforth's Skoda Estelle beat an eclectic field in 6A, the pre 1989 roadgoing class, Mark Fearnley taking second in his Jaguar D Type Replica and Richard Freye third in his Mini when he eventually got it to exit Lafone hairpin without the engine dying!
The oldest car in the field, John Mansfield's Austin 7 Ulster ran alone in 6B for pre '89 racing cars and Ian Howlett in his MGF Trophy beat the Beningfields, father and son, in their Midget and TC in the MG class. Finally, a 3-car class for rally cars was won by Chris Thomas in his Talbot Sunbeam.
It had been a great day on the hill at Barbon, with close competition, superb atmosphere and wonderful weather. Well done Liverpool and Kirkby Lonsdale Motor Clubs.
 John Brown & Jerry Sturman, with acknowledgements to the HSA's magazine SPEEDSCENE
As usual, there's loads of photos of the action on the Facebook pages of Barbon Hillclimb and Friends of Barbon Hillclimb
---
Barbon Nat A/B Hillclimb  – 7th July 2018
Records Tumble at Blistering Barbon British Championship Event                                                                     
Report by Jerry Sturman with acknowledgements to the Hillclimb and Sprint Association's magazine – SPEEDSCENE
In unaccustomed hot weather for Barbon's annual British Championship meeting, Trevor Willis and his OMS-RPE scored their second double run-off win in the space of a fortnight. On a day which saw class records fall like ninepins in the sunshine, the outright hill record remained intact although Willis's chief rival Will Hall qualified fastest for the opening run-off in with a class record breaking time that would stand as FTD. Neither Willis nor Hall could get close to this in the opening run-off, where Willis had to work hard to beat the Force-AER driver by just nine hundredths although his winning margin over Hall in the second run-off was a more comfortable half a second. Midway through the season, such is the progress of the leading duo in the MSA Hillclimb Championship that while it might be a bit early to say that the Championship is now a two-horse race, it's certainly beginning to look that way.
Jason Mourant, who had levelled with Willis in qualifying early on, maintained his strong 2018 challenge with third place in the opening run-off although fading to fifth later on. But the margins are narrow on the fast and picturesque Cumbrian hill, one of the shortest in the Championship, and the Jerseyman still ran within a second of Willis's winning time. Dave Uren's bid to get back into contention after the loss of the two early Harewood rounds gained momentum and after a strong opening foray to run within a hundredth of Mourant, he qualified the ex-Groves Gould-NME on 'pole' for the second shootout, going on to finish a mere two hundredths behind Hall. Once again, handling problems left Wallace Menzies struggling to get amongst the front runners and he could only manage fifth and fourth places, despite matching Hall and Uren's 129mph charge into Lafone Hairpin in the second run-off. Despite being eleven mph slower, Robert Kenrick was devastatingly quick everywhere else and another string of record-breaking times earned the 1-litre Raptor-BMW driver a couple of sixth place finishes.
Seventh place for Terry Graves in the opening shoot-out got the Gould-HB back into a 'number 10′ spot on the series table, although the extreme heat meant that he struck trouble during the second qualifiers after hitting a stretch of patched up melted tarmac on the approach to Richmond. He gathered up the ensuing slide and, convinced he'd had a puncture, toured to the top. His fears were groundless, but they cost him a possible qualifying spot. Kelvin Broad levelled the supercharged Pilbeam-Suzuki with Nicola Menzies' Gould-NME in first qualifying, going on to chase home Graves in the first run-off and finish seventh in the second, followed at arm's length by Nicola, now well in the points after finishing just out of them in the first run-off. The final points scoring positions early on had been taken by the other two 1100 racers in the lineup, Darren Gumbley's Force TA and Simon Fidoe's Empire Wraith, ninth and tenth each time. In the second shoot-out they were joined by a fourth, Harry Pick, who gave the new OMS 3000M its British run-off debut. He finished out of the points, as did Andy Bougourd, but the Guernsey garage owner was nonetheless delighted to qualify twice for a British run-off after seven years away from the sport.
After all Liverpool MC's hard work in installing drainage channels and access roads to combat Barbon's perennially wet weather, which had even caused the cancellation of last year's British Championship event due to a waterlogged paddock, it was ironic that the weather should be some of the driest and hottest seen at the picturesque Cumbrian venue for many years. In the class runs, National A contenders, now so accustomed to running in the wet at Barbon, made the most of the opportunity to rewrite the record books. This started in the very first class, where Hillclimb Leaders aspirant Richard Brant boosted his series points by twice lowering Paul Webster's 7-years-old Roadgoing 2-litre record, ending up almost a second and a half inside the old mark. Unfortunately, the Clio driver was the only entrant so his points score suffered as a result. In the over 2-litre class, Chris Berrisford was under Tony Bunker's Nissan GT-R record each time with his Impreza and Justin Andrews got close to it, although an understeering trip into the Lafone Hairpin outfield in his reshelled Impreza blunted his second attempt.
Neither class winner John Pick in his Subaru-based AMS Murtaya, or Westfield-Vauxhall driver Jerry Neary, sole entrants in the Specialist class, could get close to Allan Warburton's record, but although there were two entrants in the first of the ModProd classes, top Leaders contender Gavin Neate and Eric Morrey, out for the first time this year with his turbocharged Imp, staged a tremendous duel. With both drivers under Andy Russell's record on every run, Morrey turned the tables on the Peugeot driver second time up to snatch the win, and the record, by a hundredth of a second.
Sharing Berrisford's Impreza, but running it in the over 2-litre Modified class, Steve Darley took the 2-car class from Geoff Twemlow's somewhat off-song version. In the Modified Specialist class Andrew Griffiths, returning after rapid repairs to his Caterham-Suzuki following chassis damage at Doune a fortnight earlier, ran inside David Newton's 2000 record on each run to regain his grip on the Leaders Championship. Chris Howard-Harris and Barbon debutante Lynn Gilbert followed the bike-engined car home in their K-Series Caterham. Mike McDonald powered his unique Mini Evo to the head of the Sports Libre class but 1988 British champion Charles Wardle, returing to Barbon for the first time since his Championship year to drive David Seaton's Pilbeam-BMW V8, was delighted to close to within a couple of tenths of his benefactor.
True to form, Robert Kenrick lowered Simon Fidoe's 1100 racing record on successive runs, his final shot almost three quarters of a second inside the old mark. Darren Gumbley came closest, albeit at arm's length, while both drivers, plus the third placed Fidoe, made the run-off cut each time joined by Harry Pick for the second one. Old rivals Phil Perks and Graham Kerwen made up the Formula Ford class, Perks in charge by just two hundredths after the first run in his Royale although pulling out a fraction more later to clinch the win from the Van Diemen driver.
Hillclimb returnee Andy Bougourd warmed up for his first British run-off appearance in a long while with a class win in the 1600 class, leaving Mark Schlanker and Jim McDiarmid to battle it out for second place, split by a tenth. With potential front-runners Richard Spedding and Paul Haimes non-starters, the door was open for Kelvin Broad to take the 2-litre forced induction class in his Pilbeam-Suzuki MP101 from Lee Griffiths' troubled OMS-Suzuki; a gearshift glitch halting the car on his opener and ruining his qualifying chance later on.
Will Hall's over 2-litre class record early on turned out to be the day's best time and, of course, earned him the class win ahead of Dave Uren, but with Jason Mourant and Trevor Willis tying at the break, it was Willis that got the nod for third place on aggregate.
Running solo in the pre-72 Sports and Racing class, a second appearance by Graham Curwen saw the local man wheel out his superbly restored Buckler-BMC Mk5 that had first appeared at Barbon in 1953, driven by John Cookson.
Seasoned competitor John Wadsworth (son of Edgar, who competed at Barbon in the 1950s) took the first win in the B licence section of the meeting, his standard MX5 almost two seconds clear of Peter Messer's similar car. Steve Murphy won the 2-car 1400 Modified Saloon class in his road/rally Mini, ahead of son Nick in his second ever event. Nigel Trundle led the 2-litre class throughout in his VW Scirocco, John Pilner elbowing past Shane Dyson's Renault 5 Turbo to snatch second place in his Fiesta ST. Raymond Worrall extended his lead over Ken Morris's MX5 to take the 2-litre sportscar win by half a second.
Running his Porsche Boxster in the Roadgoing 2-litre sportscar class, Simon Butterworth demolished the record to win from late entrant Michael Woodhouse's Toyota Celica, while Michael Bellerby ran a second clear of Anthony Middleton to take the first of the Kitcar classes in his Sylva Striker, leaving 2016 Liverpool MC Speed champion Nigel Fox to run on his own in the larger capacity class in his Caterham-Zetec. Also running on their own were veteran driver Robert Holt, aboard his supercharged Lotus Elise 111R, and Mark Davenport's Sylva J15. John Mansfield, who had attended the first Barbon hillclimb in 1950 at the age of 12, also ran solo in his 1927 Austin Ulster replica. At the other end of the scale was Barbon first-timer Steve Chaney-North, another to take an unopposed class win in his Vauxhall powered rally Escort Mk2.
The best supported B class, with seven entrants, was for pre-88 Roadgoing cars. Gilcrux police officer Peter Garforth led from the off in his 140bhp Skoda Estelle 'Snotty', but Jim Wright powered through from third place to take the eventual win in his evocative Vauxhall Chevette HS. Among the MGCC Speed Championship entry, Jake Wolf led throughout in his Midget after an initially close duel with Ian Howlett's MGF Trophy.
So ended one of the hottest Barbon events for years – even warmer than the June meeting – enjoyed not only by the competitors but by the large crowd who came to watch the picturesque Cumbrian hill's annual display of British Championship hillclimbing.
It's hard to say why the event has never drawn a particularly large HSA entry except perhaps that it's perceived to be a relatively far-flung venue. It is however very easy to get to, being just 15 minutes from J36 on the M6 and once there, the journey is well worthwhile, even from West Sussex, as HSA chairman Chris Howard-Harris and his co-driver Lynn Gilbert showed!
Thanks must go to the joint efforts of the organising teams from Kirkby Lonsdale MC & Liverpool MC for continuing to promote events at the superb but little used venue and special thanks to the marshals and particularly the hard-working startline crew for their sterling work throughout this record-breaking and extremely hot event.
As usual, there's loads of photos of the action on the Facebook pages of Barbon Hillclimb and Friends of Barbon Hillclimb
---
Barbon Nat B Hillclimb – 9th June 2018

Fun in the Sun at Barbon – Club Motorsport as it should be!                                                                                           Report by Steve Wilkinson

Wandering round the paddock under a clear blue sky and serenaded by the peel of bells from the village church took me back to the 1980s when it never seemed to rain at Barbon Manor hillclimb. A cracking entry boded well for the days sport and conditions couldn't have been better.
Getting proceedings underway for the competitive runs were the two classes of two litre standard cars. In the Saloon class David Goodlad in the Clio had the upper hand all afternoon whilst Mike Lawson in the Suzuki Swift slowly closed the gap in second. In the Sports Car class there were two Mazda MX5s. John Wadsworth took the class win after Peter Messer retired his car after just one timed run.
Into the road legal Modified classes next and it was a Harewood 1-2 in Class 1A as Mike Geen (Peugeot 205) and Richard Derrick (Mini Clubman) led home Michael Huddleston (Mini). Class 1B was frenetic with another tin top battle. Gordon Riley in the Toyota Starlet and Will Roberts in the Clio posted identical times on their first timed runs. Riley then eased ahead as Roberts failed to improve. Ian Butcher in the Integra managed only one run before the car expired but it was good enough for third place. Russell Thorpe in his faithful Renault 5 was fourth chasing home the Harewood regulars. In 1C Jonathan Mounsey (Mitsuibishi Evo 6) totally dominated on his Barbon debut leaving David Exton in the Audi S6 Avant trailing by over 4 seconds. In 1D there were a plethora of MX5s against two Honda S2000s. Michael Thomson in one of the Hondas took the class win but Adam Riley in his MX5 clung onto second place throughout despite Ray Worrall's best efforts in the second Honda. Paul Collier (BMW Z4) took a solo win in 1E before we moved into Kit Car territory.
Class 2A saw a dominant win for Michael Bellerby (Sylva Striker) whilst the battle for the minor places was intriguing. Anthony Middleton and Martin Walker (Westfields) and Leon Franks (Striker) scrapped for second over all three runs. Middleton actually held the place throughout but was under pressure each time he was on track. Franks was third initially but then relegated to fourth before a third run charge took him back into third place. Walker spent a lot of time sideways but his second run took him to third but he was pushed to fourth despite setting his best time of the day on the third run. In fact, second to fourth places were covered by just 0.70 seconds. In Class 2B Nigel Fox and Les Golding both pushed their Caterhams hard and were first and second respectfully throughout. Simon Nicholson took third in his Westfield whilst the pretty Westfield Eleven Sport of Chris Hodgson was fourth. Rob Holt (Elise) took a solo win in 2D before we moved into Mod-Prod territory.
A late entry for John Willis in his Rover Metro provide fruitful as he took the 3A Class win from Colin Duncalf (Mini). In 3B Geoff Harkness took the win in his Rally prepared Vauxhall Corsa with Harry Moody (Honda Civic) second and Paul Barker (Toyota MR2) third. Richard Hargreaves only took one timed run in Class 3C with his immaculate Mk 2 Escort and took the solo win. Class 3H for the Kit Cars saw a 'riotous' assembly at the head of the field. Bob Bellerby led initially in his Sylva Riot Yamaha R1 with Chris Boyd's Hayabusa powered Riot second and Paul Bowness third in his MK Indy. Boyd struck back taking the lead on the second timed run and held onto the class win. Bellerby closed to within 0.18 to make it a blanket finish.
In the single Sports libre Class (4A) we had three very different cars. Ian Medcalf in the gorgeous Fiat 500 BMC which started life as a Special Saloon, David MacFarlane in an OMS SC1 which is a purpose built hillclimb libre car and Brian Beverley in his Westfield XTR 2 which was designed as a road-legal track-day car. Medcalf took just the one timed run in the Fiat before calling it a day with a damaged wheel. Beverley was the quickest on both the first and second runs and didn't take his third run whilst MacFarlane took all three runs but posted his best time on run one to finish second.
We then moved into the Racing Car classes. In Class 5A for the upto 1100cc cars, the shared OMS of Craig Powers and Eve Whitehead finished 1-2 thanks to its one litre Kawasaki engine whilst Peter Brogden was third in his Jedi Mk 1 with just 600cc of Honda to propel him up the hill. Whitehead had led initially but Powers managed to be a tad less cautious off the line on his subsequent runs and took the class win by just over two tenths! In the Formula Ford 1600 Class 5B Graham Curwen posted two 29.27 second runs in his Van Diemen RF91 to lead the class but on his third run Phil Perks in his venerable Royale RP26 matched Curwen's time exactly. On this occasion, the organisers decided not to use the old count-back system and awarded each driver a first in class trophy.
Next to the line were the 1600 Racing Cars in Class 5C. Jim MacDiarmid kept the nose of his Force PC ahead and not only won the class but also set FTD. Chris Taylor finished in second with the Hi-Tech even with a DNF on his third run. Chris Spencer's pretty Scarab Formula Vee trailed in third.
In the first of the Classic classes, 6A for road going cars, Martin McHugh rumbled to the win in his Morgan Plus 8. Wigton Motor Club members battled over the minor placings, Peter Garforth's Skoda Estelle in a rather lurid green was second, in third it was Jim Wright in his neat ex-factory demonstrator Vauxhall Chevette and fourth went to the purple Alfa Romeo 33 of Paul Eastwood. The Classic Racing class saw a solo win for Angus Buchan in the ex-Chris Cramer Terrapin SR two-seater.
An excellent entry of nine Bert Hadley Championship cars were next and the little Austin Sevens put on a fine display. The Road and Track cars were combined and it was Terry Griffin's pretty Monoposto racer that took first place. Paul Geering's tiny 'Pigsty Special' was second with Alan Fairless's Ulster in third.
Finally, Class 6D for Pre-1962 Road Going Cars brought the meeting to a close. Graham Curwen, who had already jointly won the FF1600 class, made it a second win when he brought the 1953 Buckler Mk 5 back to Barbon Manor for its first outing since restoration. Keith Thomas made it a Buckler Mk 5 1-2 with his supercharged version. John Hunter was third in his superb Riley TT Sprite.
Thankfully all the drainage works completed over the close season were not tested. A big "THANK YOU" has to go to the two organising clubs Kirkby Lonsdale MC and Liverpool MC, the superb marshals (particularly the start line crew of just two who did a fantastic job of lining up cars all day in unrelenting tropical heat) and the 82 drivers who took part so that the very appreciative crowd of over 700 spectators, including many 'locals', were again treated to a taste of the Eighties.
Let's hope that the weather is just as pleasant for the next event at Barbon on 7th July, an event  which includes not only many local and regional competitors, but also sees the return of the MSA British Hillclimb Championship to this picturesque yet challenging venue.
There's lots of photos of the action on the Facebook pages of Barbon Hillclimb and Friends of Barbon Hillclimb
---
Barbon Nat A/B Hillclimb  – 1st July 2017
Event cancelled.
Following an inspection of the venue on 29th June the decision was taken to cancel the 1st July Barbon Hillclimb.
Rainfall had been unusually high over the previous week which resulted in the paddock becoming substantially waterlogged. Despite there being no further rain forecast until after the event, it was clear that the ground conditions would not recover sufficiently by Friday evening / Saturday morning to allow competing cars and their attendant vehicles, trailers etc to safely negotiate the paddock. Frustratingly, the course itself was in near perfect condition and of course was completely dry on the day of the event.
All we can do is to apologise to members who entered the event or were looking forward to watching the annual visit of the British Hillclimb Championship. It's clear that our summers are getting wetter and we need to do something to make the venue less vulnerable.
When the ground is wet, the problems start the evening before an event when competitors start arriving with trucks, motorhomes, vans, trailers etc which inevitably chew up the ground even before competing cars have to negotiate the grass paddock and having to tow vehicles back onto firm ground is not something we wish to see.
We are looking at ways of tackling the land drainage issues at Barbon as we strive to improve this spectacular and challenging venue for the future but for 363 days a year it's a farm and as there are only 2 motorsport events a year to provide funding, the work needs careful planning in order to be affordable.
We tried to find a replacement date in July or August, but this has not proved to be possible as all available dates clash with other events.
---
Barbon Nat B Hillclimb – 10th June 2017

Wet, Wet, Wet!                                                                                          Report by John Harden
Seven hours of continuous rain was the order of the day at Barbon in June and although the track itself stood up to the conditions remarkably well, the same cannot be said for the paddock and spectator car parks. Although some competitors decided not to turn up, 67 did venture out and make the most of the day. The event was running remarkably well given the conditions, right up to the point that a car lost the contents of its sump and left an oil slick from the approach to the hairpin right up to the top paddock.
Oil & water on Tarmac are not a good combination so an early lunch was called whilst our venerable marshals and officials treated the track with detergent, much brushing and copious amounts of additional water. Never has the hairpin been so clean!  We resumed after lunch but it soon became apparent that the paddock was slowly becoming waterlogged and cars were having great difficulty gaining access to the track. So the tough decision was taken to call it a day after the first timed run – much to the approval of the vast majority of competitors. No records were set of course but most people enjoyed the day.
We greatly appreciate the many comments of support that we received after the event. We tried to keep things going, but safety had to be foremost in our decision, and calling a halt was the right thing to do.     And, of course, at 4.30pm, the sun came out!
---
Barbon Nat A/B Hillclimb  – 2nd July 2016
Moran and Willis again at Barbon National                                                                           
Report by Jerry Sturman With acknowledgements to the Hillclimb and Sprint Association's magazine – SPEEDSCENE

 On the busiest weekend on the British hillclimb calendar, the trans-Pennine north of England double at Barbon Manor and Harewood, championship leaders Scott Moran and Trevor Willis traded run-off wins on Saturday's Barbon event as intermittent rain swept across the Cumbrian fellside. Willis got the better of the weather to set FTD in first qualifying on a damp track, but in the wetter run-off a big tailslide exiting Lafone hairpin, yards before the finish line, blunted his attack on Moran's time set moments earlier and the series leader took the win by four hundredths.           Behind the wheel at Barbon for the first time in 28 years, Sean Gould took a fine top qualifying place for the second shoot-out in his GR59-Suzuki, with Moran settling for a cautious seventh place in the batting order. After qualifying third behind Dave Uren, this time Willis made no mistakes. Spectacular as ever in the OMS V8 through the fast Richmond left-hander, he took the win by a quarter of a second from Wallace Menzies, who had shadowed the two championship front-runners in his Gould-NME in the opening run-off. In another fine drive from Gould, the top 1600cc runner on the day put the GR59 in third place leaving Moran's GR61X was left in a safe fourth spot, there being no need for heroics with his series lead over Willis still relatively comfortable as they left for the following day's Harewood meeting.
Will Hall's fortunes seemed to be improving with a useful fourth place in the opening run-off,  but it all went wrong in the second qualifying session. Running full wets on the front and intermediates on the back, he got a wheel on the grass at Crabtree just after the start and spun the Force-AER into the barrier. Fortunately the car was undamaged, although the chance of a run-off place had evaporated. With fifth and sixth place finishes, Dave Uren maintained his edge over Hall on the Championship table and his co-driver Nicola Menzies also made the cut each time, but Ed Hollier got the better of Uren's Force-Suzuki turbocar in the second, wetter, shoot-out after just failing to qualify his normally aspirated Empire Evo-Suzuki for the opening bout.
His PCD Saxon sidelined with engine problems, Steve Marr was sharing Richard Spedding's GWR Raptor for the weekend, qualifying the car for the opening shoot-out. Eighth place left Spedding in the top six on the table despite neither driver making the second cut. Paul Haimes took a couple of low scoring places, the occasionally recalcitrant Gould-Suzuki turbo apparently trouble-free at Barbon, while Eynon Price made sure that the 'works' GR59, shared with Gould, was in the points each time although in the constantly changing conditions, even the Doune run-off winner's wet weather prowess didn't allow him to capitalise on his early third place qualifier. Championship co-sponsor Graham Wynn kept his burly Gould-HB V8 in the series top ten with two ninth places. In his first ever British run-off, Darren Gumbley finished just out of the points in Simon Fidoe's 1000cc Empire Wraith, leaving his co-driver to bag the final point in the closing shoot-out.
Unfortunately the weather didn't match that of last year's record-breaking British Championship event, intermittent rain keeping paddock exit conditions, never ideal, even less so and track conditions at best unpredictable. But in the opening over 2-litre series production class, Jamie Powell put his Mitsubishi Evo's 4WD to good use, maintaining a two second cushion over Peter Herbert's 911, while David Finlay bravely manhandled his latest Hillclimb Multicar Challenge mount, a massive 6.4-litre Chrysler-Hemi powered Jeep Grand Cherokee, up the treacherous Barbon slopes for third a similar distance behind.
Defending Hillclimb Leaders champion Colin Satchell, recently eased off this year's top spot with a lack of points due to insufficient class numbers, suffered the same fate at Barbon despite sole opposition 'Bod' Bolderson's 1400 Mini being no match for the potent Peugeot. With Geoff Twemlow's Impreza running on his own in the big class, Tim Higgins' 2-litre Westfield-Vauxhall was well clear of Phil Hallington's smaller Ford-powered version in the specialist production class.
Unfortunately Andrew Jackson's Honda powered Reliant Kitten had problems in practice and David Seaton's superb Pilbeam-BMW failed to appear, so former motorcycle road racer Allan McDonald had a solo sports libre run in his radical Mini Evo-Mitsubishi turbocar.
Even the immensely popular 1100cc racing cars were relatively thin on the ground, more so when Steve Marr's Martin Ogilvie penned PCD Saxon had seized its Suzuki engine on the dyno, (although once again Richard Spedding came to the rescue with the offer of a 1600cc drive in his Raptor) and Will Ker and Ben Hamer's turbocharged OMS-Kawasaki refused to co-operate after practice. Simon Fidoe took the win in the depleted class some three seconds outside his class record, such were the conditions, from co-driver Darren Gumbley and Michel Tomlinson's sturdy, 'perpendicular' AFG-Honda Supermoto racer. A Price/Gould one/two subdued even Spedding in the 1600 class, while Paul Haimes split the Uren/Menzies Force in the 3-car, 2-litre forced induction division. Willis's early 22.34 among the big racers survived for the big class win and FTD, despite Moran closing to within eight hundredths, while Hall might have improved on third place but for his second run indiscretion.
The National B classes began with a solo run for David Wiggins' 1300 Peugeot Rallye. With two MGF Trophys in the 2-litre sports car class it was IT consultant Stephen Norton's example that had the edge over Robin Haslam's rare 160 version, there being just 310 left on the roads out of the 2000 built. Competing since 1957, John Wadsworth, son of erstwhile Barbon regular Edgar, ran third in his Mazda MX5.
In a TVR duel for over 2-litre sports cars, Michael Parden's rare 2500 Triumph straight six version steered clear of former international rallyist and recent hillclimb returnee Duncan Woodcock's 4-litre Chimaera V8 by just three tenths.
Nigel Fox took the win in the combined kitcar class, his injected 2-litre Raceline Zetec powered Caterham coming home just under two seconds clear of Dent tyre dealer Tony Middleton's Westfield crossflow.
Youth won out in a ModProd duel aboard their shared Mini between Willy (make it!) Makinson and his son Paul, fought out on solely on the slightly drier opening runs, while Duncan Rob-Cummings probably wished he, too, had confined himself to a single run in his Midget after problems second time up cost him several seconds. Both modified kitcar runners settled for one run, Mark Purdham's MJ Hosson Bouler stealing a quarter of a second early on from Chris Boyd's smaller, bike engined Sylva Riot Bingley Special.
Aboard his ex.Steve Owen/John Chacksfield Harewood Championship-winning OMS-Vauxhall, Barbon ace Jim McDiarmid took a clear win in the single-seater class from Southport garage proprietor Peter Oldfield's ex.Jordi Gene Formula Ford Van Diemen and Robert Bailey, driving his father's OMS-Suzuki 2000M for the first time.
In the pre-68 Classic class, Mike Garstang ran solo in his very original Cooper S after John Mansfield's Austin Ulster had cried enough during practice, while in the pre-86 class, Martin Breen's V8 MGB GT just got the verdict from police officer Peter Garforth's 1977 Skoda Estelle, despite the bright green machine, the oldest RHD example left, closing in on the second runs.
Competitors in the final class, for Luffield Championship MG cars, were offered a third run at the end of the meeting. Less than half the eight car class took advantage of it in the less than favourable conditions, and in fact the leading second run placings remained, Andy Walker's V8 MGB collaring the pot ahead of John Payne's Sprite and Richard Watkinson's Midget.
There's lots of photos of the action on the Barbon Hillclimb Facebook page.
---
Barbon Nat B Hillclimb  – 11th June 2016    
A competitor's view…….                                                                                             Report by Keith Thomas
This event, run by Liverpool MC but assisted greatly by the stalwarts of Kirby Lonsdale MC, was a superb event.
Weather was mixed, dry for much of the day but every now and then a big downpour just when you thought the clouds were disappearing rather spoiled it for spectators and made conditions very tricky for drivers.
Mal MacKay had a very hairy adventure in his Silva Riot; it aquaplaned off to the left of the track just before the Armco on the hairpin where the field drops away steeply. It spun and bounced several times threatening to overturn at every change of direction according to spectators. Somehow it stayed upright, just missed a great number of big rocks and the trees. This was heart stopping for everyone at the time.
PTS Recovery's superb unit soon picked up the relatively undamaged car and returned it to the paddock with Malcolm still grinning broadly I have to say.
Next car up had an equally action packed few seconds but was unfortunate enough to hit the Armco barrier and remove the suspension in a rather nasty unorthodox way. Fortunately this driver too suffered only injury to his wallet, a big sigh of relief all round.
I hope someone writes a comprehensive report of the event elsewhere as I spent so much time talking to the other drivers in my class I never got around the paddock to see what everyone else was doing. Our class had no less than 15 cars in it and some cars I had never even seen before.
It was a varied class to say the least, Classic and Racing cars manufactured before 1968 was a really unusual cut off date for some reason.
Usual dates are up to 1946, the next class up to 1960 then 1960 and above. It was really close fought class and I have never ever seen such narrow margins between the cars.
Easy winner was a beautiful works replica Healey 3000, a fantastic car that my wife was really desperate to take home driven by Julian Hindle with a time of 33.07. 2nd was the rapid pre war Alvis 12/70 of David Smith who managed a brilliant 37.71 in this car dating from the early 1930s. A wonderful Lotus 20/22 exactly like Jim Clark used to drive and in Team Lotus colours driven by Barbon resident Peter Anstiss did a 38.50 and was 3rd in class. I did a 38.59 in the Buckler, nine hundredths of a second slower than the Lotus yet when I looked I was back in 6th in class!
George Cooper, the 82 year old driver from Glasgow who competes in some fantastic ex Stirling Moss's cars which he owns and races all over Europe, beat me by just one hundredth of a second in the ex works prototype Cooper MG doing a 38.58 and was 5th in class. Jon Mellor beat George with a 38.53 and took 4th. Mike Garstang in the 1293 Cooper S was just behind me with a 38.88 so was 7th in class. I have never seen such a close competition in any class of dissimilar cars..
I really regretted having that pie for lunch after I saw those times I can tell you.
(This would be a great class for which a handicap system would be ideal. At Prescott the system works like this. Your fastest ever time in that car at that venue would be your handicap time, first time competitors get their fastest practice time. If you beat your practice time by more than 5% your time is discounted to stop deliberate sand bagging. The winner is the one who beats their fastest time by the biggest margin.)
Our class was a really varied and by far the biggest class this year. It was brilliant to see the differences in engineering over a wide span of time. A 1920 Napier which was probably taller than me had a 6220cc engine, looks like a vintage Bentley and in fact many parts are from the Bentley stable. This lovely monster had no front brakes at all, the brave guy piloting the beast was Maurice Gleeson from Accrington. Its discovery & history of the restoration as told to me was every bit as interesting as the car looked.
Jane Corner, well known VSCC driver from York had her lovely Talbot 65 special, Geoff Purnell's fantastic supercharged Singer looks very similar to an ERA with a big blower on the front apron. Unfortunately Geoff broke a half-shaft, this sidelined him which was a great shame. John Hunter was in the gleaming Riley TT special and VSCC purveyor of vintage parts Stuart Cook was in a highly polished Morris Keen special.
An Anglia 105E, the 1960's one with the reverse slope rear window, had a 1700cc motor, an MG Magna from the 1930s had a 1087cc supercharged unit and a Riley 9 had 1087cc without a blower adding to the great variety of vehicles in class 6A
The Austin 7 class for those entered in the Bert Hadley challenge comp had a fantastic 11 entries with cars from as far away as Bristol. Some of these cars sound more like the motor bike engine cars rather than what one imagines an Austin 7 will sound like. Someone once told me "revs cost money". I am sure this is very true bearing in mind how sophisticated those race engines are.
Angela Jones again co drove Willie Jarman's car and frightened the Nomex under pants off Willie by posting a quicker time, but on the last run he pipped her by 1 sec so he will probably loan her the car again for the next event !
We missed Willies banter this year as we were parked in different areas, there being so many cars entered. No doubt other drivers will have had great enjoyment and a little bit of drumming in their ears during the day having the privilege to be parked near to Willie's circus where entertainment is guaranteed. The Jarman's Tracsporter covered trailer would have been very nice in those showers I bet.
Chris Spencer the man who has almost every model of VW Beetle, combi, camper, Karman Ghia etc ever produced now has a motorhome also on a VW Chassis complete with a 2.5 TDI motor of course. He was competing in the VW based Formula Vee Scarab. Chris was telling me he taught Willie Jarman how to drive but I haven't ascertained as yet from Willie if that's true!
Star performer in class 6B was Peter Garforth in his Skoda Estelle. He was quickest beating a Jag D type replica, the rapid MG TC of Keith Beningfield, Lotus Elan and other cars. Great drive Peter, his long hours in the garage and even more hours on the phone to the Warsaw or wherever it was in Czechoslovakia obtaining parts for the Skoda paid off eventually but it took a long time and much perseverance to get the correct parts. His time of 34.18 shows the car & driver combination was really quick especially as the track was wet.
Barbon once again is a "must do" event. Liverpool Motor Club (and Kirby Lonsdale of course) deserve all the accolades heaped on them by competitors and spectators alike. Phil Gough and his team did a great job.
Special mention must go to commentator Bob Milloy whose wit and knowledge keeps everyone entertained and informed. He even apologised for the rain as if it was his responsibility to organise a dry day.
Great event, thanks to all concerned especially the hardworking marshals, and don't forget the next event is very soon, being on July 2nd which is Barbon's British Championship event.
There's lots of photos of the action on the Barbon Hillclimb Facebook page.
---
Barbon National A/B Hillclimb – 4th July 2014
Incorporating the MSA British Hillclimb Championship
 Goodyear shatters Barbon record                                                   Report by Jerry Sturman, With acknowledgements to the Hillclimb and Sprint Association's magazine – SPEEDSCENE
 Photos courtesy of Mark Holmes
The 2015 Barbon National's date switch from May to July not only marked a change in the weather but, after seven long years, a new hill record was set as Jos Goodyear, after failing to qualify for the opening run-off with a mechanical failure, bounced back and finally reset the oldest course benchmark on the British hillclimb calendar. His phenomenal shot in the supercharged GWR Raptor-Suzuki was almost half a second inside the old mark – this in a run that lasted barely 20 seconds.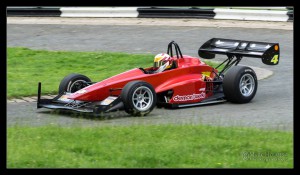 For the statistically minded, his 20.08s run (quite a coincidence that the old record was set in 2008!) means that in terms of average speed from a standing start, Barbon is now the fastest hillclimb on the British calendar. For the record, its new average of 90.66mph now exceeds that of Shelsley Walsh, where Martin Groves' 90.59mph average for the 1000yd Worcestershire hill still stands at 22.58s. The win marked Goodyear's fourth consecutive British hillclimb FTD, yet with his moments of brilliance punctuated by failed runs and mechanical problems, he remains confined to sixth place on the championship table.
The writing was on the wall after the appreciative crowd, basking for once in Cumbrian sunshine, had seen Trevor Willis win the opening shoot-out in a time just six hundredths away from Scott Moran's 2008 record. But with Moran not competing at Saturday's leg of the traditional Barbon/Harewood double-header Willis, even after running wide just yards from the finish at the notorious Lafone Hairpin in the closing run-off and finishing fourth, had done enough to move ahead of the five-times titleist into second overall in the championship standings.
After qualifying top for the opening stanza with a new class record, Moran's protégé Alex Summers' two runner-up placings kept him firmly in charge of the championship with a healthy 41 point lead. Will Hall chased hard for an opening third place, but a less than perfect start in the second run-off left him ninth on a hill where the slightest mistake can be costly. After a couple of solid finishes in the red Gould-NME, by close of play Wallace Menzies had levelled with his championship rival's fourth place on the table.
With the turbocharged Force recovered from its recent escapades, courtesy of much midnight oil burnt by the indefatigable Ian Dayson, Dave Uren scored his third fifth place finish of the year, following it up with sixth later on to step up his challenge to John Bradburn's Gould V8, which he outran by a couple of places each time. Tom New swapped places with season-long rival Alastair Crawford to end the day to maintain their status quo. Ninth and tenth respectively in successive run-offs, the sister Gould GR59s of Paul Haimes and Simon Moyse took turns at scoring at the tail end, Haimes' supercharged car finishing the opening stanza ahead of Ed Hollier, who qualified each time but was forced to abandon the evening trip over to Harewood after discovering an oil leak from a cracked casing on his Hayabusa unit.
The entry was only about two thirds that of Barbon's Nat B event three weeks earlier, but this is usually the case for this British Championship event, previously held in May, as with another two rounds at Harewood the following day, a number of competitors not chasing championship points opt to spend a more leisurely weekend at Harewood to contest the Yorkshire hill's B event on the Saturday. But while there were several classes with only one entrant, there were class records in abundance.
After triple ANWCC hillclimb champion Steve Price had opened the meeting with a solo run in his Impreza, Tony Bunker was first into the record books with his burly Nissan GT-R, the former Clubmans driver from Brighton well inside Simon Butterworth's old mark each time and chased hard by Chris Berrisford's Impreza, which was also well inside the previous standard. Defending HSA speed champion Chris Howard-Harris didn't quite manage to get his Caterham K-Series on terms with Allan Warburton's Specialist car record, but he was well clear of Westfield-Vauxhall pilots Tim Higgins and Jerry Neary.
TTC Group Hillclimb Leaders front-runner Colin Satchell
maintained his form in the very blue wide-tracked Peugeot 205 with another record, but with only two runners in the 2-litre ModProd class his points haul was not enough to maintain his series lead. He had eventually to concede it to Jos Goodyear, but this would only be temporary – he would regain it the following day with another record at Harewood!
Much travelled Cornish resident Geoff Twemlow and Porsche expert Simon Dawes rounded off the ModProd classes with solo runs in Impreza and 911 respectively, while Ben Lovell also ran on his own in his carbon tubbed OMS sports libre car, but after Ben's defeat by Jim McDiarmid's OMS-Vauxhall by a hundredth of a second at the recent June meeting, their duel continued unofficially, despite running in different classes. After the first runs Jim, last to run in the Nat B section of the meeting, had the edge again. The margin? A hundredth of a second…
Mike Manning's twin turbo Ford Puma led the big sports libre class initially but retired early on during the second runs. After spluttering lamely over the finish first time up, the amazing Mini Evo of former Manx GP winner Allan McDonald returned to health and snapped up the win.    After Midlands hillclimb marshal Justin Walker had enjoyed a solo run in his 600cc Jedi-Yamaha, the record books were opened again as with the svelte Empire Wraith warmed up by co-driver Darren Gumbley, Simon Fidoe reset the 12-year old 1100cc racing mark jointly held by Mark Budgett and former British champion Adam Fleetwood. The time would qualify Fidoe for a shot at the opening run-off, quite a feat in a one-litre machine at the fastest hill in the championship, although he would finish out of the points. Phil Nelson led a trio of Formula Fords in his Hawke, pursued by the Van Diemen of veteran Graham Curwen (who first visited Barbon in 1952 – as a schoolboy, of course!) and Phil Perks' Royale.
On his first visit to Barbon for eight years, Ed Hollier's efforts resulted in a 1600cc class win and two run-off placings in the Empire Evo, but the engine problems mentioned earlier meant an early return to Devon. In a class of attrition, both Richard Spedding and Steve Spiers missed their second runs through mechanical problems and a broken drive-chain respectively.
After fixing a broken supercharger drive pulley that restricted the Raptor to sixth place early on, Jos Goodyear bounced back with a new 2-litre record and a top qualifying place as a prelude to his stupendous run-off shot. Early leader Dave Uren and Paul Haimes were left to dispute the runner-up spot. Alex Summers also warmed up with a new class record to head the line-up for the opening shoot-out, its eventual winner Trevor Willis bagging the second class award ahead of Will Hall.
With a substantial margin over Peter Green's BRA Cobra 289, the immaculate Lotus 41C twincam of Malcolm Wishart not only beat Peter Brogden's pre-72 sportsracing and racing car record but also bagged the Scrutineers' Award.
The Nat B contenders were then offered a third run after the second of the day's British run-offs, but with no opposition Graeme Procter decided to forgo the extra run in his turbocharged Fiat Abarth. A three-way battle between HSA championship contenders Roger Fish, Ken Morris and Michael Tindale saw Fish's Honda S2000 emerge on top from the two MX5s. Returning to motorsport this year after a 30 year absence, Lancaster's Duncan Woodcock took the big roadgoing sportscar win in his TVR Chimaera from Duncan Rob-Cummings, forsaking his regular Europa TC for a TVR 390SE.
Just two runs were enough for solo runner Rob Holt to lower his 'non-ferrous' class record in the Elise before Ivan Russell took his Anglia-BDH to the 1400cc ModSaloon win ahead of Paul Makison's ex-Mini Miglia contender.
Poor Andy Larton's third run attempt to lower his new 2-litre record was not a good idea, as the rapid Peugeot 106 barrel-rolled several times exiting Richmond.
Happily, although the car was a mess Andy stepped out unscathed, and he tells us he is already contemplating what can be salvaged to transfer to his spare shell as he thinks there is still another second to be had!
Having marshalled at Barbon in June, Steve Lewis's third run paid off with a four hundredths improvement in his Impreza, but neither Michael Parden nor James Proctor found more, their earlier see-saw TVR/Nissan duel resolved in favour of Time Attack UK contender Proctor's 350Z.
Just one Sylva Riot Bingley Special competed in this year's event, in the hands of Malcolm Mackay. In the next class, erstwhile rally driver/navigator Chris Thomas's rally spec Talbot Sunbeam had a half second edge over Gary Houghton's Toyota Starlet.
But how did final runner Jim McDiarmid from Kendal fare in his unofficial duel with Carnforth man Ben Lovell? He won again – this time by four hundredths!
Words by Jerry Sturman
With acknowledgements to the Hillclimb and Sprint Association's magazine – SPEEDSCENE
It was an absolutely superb day on the hill at Barbon. There were challenges, not the least being the failure of the PA system link to the speakers at the bottom of the hill, but judging by the number of positive comments we've been receiving, it was the best British Hillclimb meeting at Barbon for years. There's lots of photos of the action on our Facebook page.
---
Barbon Hillclimb  – 13th June 2015    
A View from the Hill……..                                                                                             Report by Phil James

  With a capacity ninety-car entry and as a qualifying round of no fewer than twelve regional championships the only potential dampener in the days leading up to the event was the weather.
Those good folk at the Met Office were forecasting rain, rain and more rain, hardly ideal in terms of drivers getting the most from their cars or organisers attracting lots of spectators. Thankfully the forecasters got it wrong (again) and whilst cloud was a prominent feature of the day, the weather stayed warm & dry.
There was also a lack of any dazzling sunshine and whilst that may have disappointed some of those spectating it helped make for some perfect driving conditions. That helped keep pressure on the drivers with many classes not decided until all final runs had been completed.
Similarly the FTD was only determined once Jim Macdiarmid had completed his final drive up the 890 yard long 1:12 incline stopping the clocks on 24.20, a hundredth of a second faster than Ben Lovell.
Carnforth based Lovell had set best time on the second timed run but having put his OMS SC4CF onto the grass on the inside of the Lafone hairpin on his final run he failed to improve his earlier time. That left the way open for MacDiarmid, from Kendal, to snatch top honours after timing his run to perfection.
There were lots of close contests throughout the classes, in particular Class 3B where six hundredths of a second separated the Ford Escort Mk2 of winner Richard Hargreaves and the Peugeot 106 of runner-up Andy Larton. Records were broken too, amongst others Mark Purdham set a new benchmark in Class 3G.
For the most part the day was incident free but a spot of bale bashing at the Lafone hairpin by Dave Exton in his Toyota MR2 Mk2 gave the marshals the chance to flex their muscles!
In real terms it all added to the day's entertainment, hopefully leaving the spectators wanting more and returning to the hill for the British Hillclimb Championship event on 4th July.
---
Barbon Hillclimb  – 14th June 2014    
Thomas to the top                                                                                         Report by Steve Wilkinson
    Despite the threat of rain late in the day the jointly run Liverpool MC & Kirkby Lonsdale MC hillclimb at Barbon Manor stayed completely dry and there were some interesting battles throughout the classes plus some superbly different cars tackling the 880 yard hill.
There was just the one Standard class and that went to Martyn Bland in the Fiesta ahead of co-driver Neil Gibson and the 4wd FIAT Sedici of Tim Gill. In the Road Going classes there was a win for Robert Iveson in the Up to 1400 split despite pressure from Steven Holmes' Saxo. In the two litre class Russell Thorpe and his trusty Renault 5 Turbo 'Doris' took a comfortable win after William Roberts retired his supercharged VW Polo. In the Over 2000 class Steve Murphy just kept the bonnet of his Impreza ahead of Paul Anderson's Mitsubishi taking the class by 0.17sec. In the Sports Car class Gordon Riley in the Elise led throughout but was pushed all day long by Ronnie Macgregor in the Honda S2000.
In Mod Prods Dave Wiggins took the Up to 1400 class in his elderly Peugeot 205 Rallye whilst in the two litre class Richard Hargreaves, who was giving his superb Escort Mk 2 a run out after an 8 year rebuild, took the honours ahead of the ever youthful pairing of John Moxham and Bruce McKie in their Peugeot 205s. William Jarman took a comfortable win in his Ford Escort Cosworth in the final Mod Prod class finishing ahead of Ashley Hodge (Escort Mk 2), Chris Thomas (Talbot Sunbeam) and the enthusiastic Phil Griffiths who was somewhat out gunned in his Series 3 Landrover!
Sports Libres were next and Dan Mason took a solo win in his Radical Prosport in the Up to 1700 class whilst David Seaton rumbled to the Over 1700 class win in his brutal Pilbeam MP43 complete with glorious sounding 4.9 litre BMW V8.
Mason's time in the 1300 Radical would have been good enough for second in the larger capacity class. Phil Nelson took the Formula Ford class in his immaculate Hawke DL2B beating veteran Barbon competitor Graham Curwen en route.
The battle for FTD was centred on the two remaining Racing Car classes. Gary Thomas in his 1400 Force PC took the 1600 class win and emerged with FTD as well. Colin Birkbeck, making only his second appearance in the ex-Peter Speakman Force PT took second in the 1600 class and was second FTD. Jim MacDiarmid was making his debut in the OMS CF04 that was previously run by John Chacksfield and took a solo win in the 2 litre class and set third FTD in the process.
There followed two Classic Car classes which were based on Target Times. In the first for road cars Robin Wright in the Morgan Plus 8 was quickest on Scratch but was way down the order on Target Time. The win went to the nimble 998cc Hillman Imp of Stuart Anderson with Dave Smith's lovely Alvis 12/70 Special second.
Colin Kingsman never ceases to push his Aston Martin DB6 to the limits and a grassy excursion at the hairpin thankfully did no damage to the car which came home in fourth.
There was only one Classic Racing Car and that was the beautifully constructed FARM Special of Peter Speakman. FARM stands for Fisher Alfa Romeo Monocoque and Peter just took two runs before calling it a day.
The final class was for the mighty Pre-war Austin 7 cars that come in all shapes & sizes to contest the Bert Hadley Trophy. Arnside's John Mansfield followed up his class win at Harewood with another cracking display at Barbon to take the win in his Ulster. Newcomer to the series Paul Geering brought his wonderful Austin 7 Pigsty Mk XIa home in second with Dave Tandy's 'Super Accessories' in third.
As I drove home through quite heavy rain which completely missed the event (apart from a very brief shower that didn't even wet the track) it was great to ponder on how superb the Barbon Manor experience is. It isn't every hillclimb course that overlooks a picturesque village and its church and has extensive views of moorlands as well. I heartily recommend a visit to the 2015 events on the hill that will be promoted once again by Liverpool Motor Club.
---
British Hillclimb Championship, Event 2 – Barbon Manor – 10th May 2014
Willis's Barbon Double                                 Report Courtesy of the Hillclimb & Sprint Association
Trevor Willis and his now methanol fuelled OMS-Powertec 28 were in superb form at Barbon Manor's short but fast Cumbrian power slopes, winning both British Hillclimb run-offs and climbing to within three tenths of the hill record for FTD on a track drying after heavy rain during morning practice. Equally spectacular, particularly through the fast and bumpy Richmond right-hander, was Championship leader Alex Summers. But his supercharged DJ Firehawk failed to match the winner by a tenth during the opening stanza.
Almost threequarters of a second adrift of the unstoppable Willis in the final shoot-out, despite unofficially blitzing the 2-litre record, Summers' run was matched by defending champ Scott Moran as both tied for second place ahead of Will Hall. Extensive reworking of his Nissan V6's engine was a clear factor in enabling Hall's howling, hard driven Force to bag a brace of fourth places. Like Willis and Wallace Menzies, whose sonorously percussive Firestorm-Cosworth ran third and fifth in successive run-offs, Hall was beginning to climb back up the Championship order after all three had missed a scoring round at Prescott's season opener.
Dave Uren ran a valiant sixth early on in his turbocharged Force-Suzuki, but a broken bolt in the car's rear suspension led not only to a wild ride as he slowed after the finish line, but also to a damaged rear wheel sensor which stymied his bid for a qualifying place in the second shoot-out. Richard Spedding bagged seventh and tenth places in his normally aspirated version while Simon Fidoe, aboard his Empire Wraith with extensive aero work by F1 engineer (and former ace hillclimber) Willem Toet, did well to qualify the 1-litre bike engined machine each time on the second fastest hill in the Championship, despite failing to score.