Whats on next?
Sadly, despite our best efforts, we were not able to run any of our events in 2020 due to difficulties caused by the Coronavirus pandemic.
We are now working towards a full season of Sprints and Track Days at Aintree and Hillclimbs at Barbon in 2021. We hope to see you there!
See our Club Calendar for information about other events that we are involved with
Our 300 members like what we do, will you join us?
Drive around the tabs above for more information about the club and its activities.
SPRINTS & HILLCLIMBS
For 20 years, we have been running a highly popular series of exciting sprints for cars on the historic Aintree Motor Racing Circuit.
We also promote two days of speed hillclimbs at the spectacular Barbon Manor in Cumbria, including 2 rounds of the highly competitive British Hillclimb Championship. Click the Barbon tab above for more details.
Our Sprint & Hillclimb Championship visits all the main Speed venues in the North, North Midlands and North Wales and is one of the most closely contested championships in the region. Already competing? Then you could join the championship too!
See our Event Calendar for more Information >>
.
Click here to view our Privacy Policy & information on Cookies >>
Track Days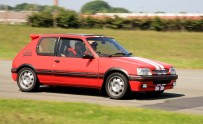 Our events at Aintree include two highly popular track days each year where drivers can experience driving in a safe and controlled environment, where there are no speed limits and no speed cameras.
Many of our sprint competitors use our track days to refine their driving skills. Drivers of open wheel single seat racing cars are especially welcome, without the need for a competition licence.
Our track days fill up incredibly quickly so advance booking is essential. Sign up for our email alert service and we'll let you know when bookings open. Click the link below:
Click here for Track Day Information>>
What else do we do?
In addition to our Aintree and Barbon events, we help other motor clubs by supplying timing teams and marshals for historic and modern rallies such as WRGB, Tour of Cheshire, North West Stages etc. and help with other clubs AutoSolo events.
You don't have to be a member of LMC to join in – see our marshalling pages for more details.
Our informal social evenings are on the second Tuesday monthly at the Unicorn Inn, Cronton Road, Cronton, Merseyside, just off the junction of the M62 & M57. Non-members are always welcome, so come along for a natter and see if Liverpool Motor Club is for you.