Aintree Circuit
Aintree Circuit was constructed in just 4 months in 1954 as the UK's first (and only) purpose-built 3-mile Grand Prix motor racing circuit.
It was intended to be run anti-clockwise, just like the Grand National horse races, but only the first event was run that way. That event revealed some safety issues so it has been run clockwise ever since.  Aintree hosted five world championship Grand Prix races, 1955, 1957, 1959, 1961 & 1962 as well as several non-world championship Formula One races.
The last race on the full 3-mile Grand Prix circuit was in 1964. Car racing continued on the 1.5-mile Club Circuit until 1982.
The Club Circuit still hosts motorcycle races but the car events are now confined to our sprints and track days, run by enthusiasts for enthusiasts.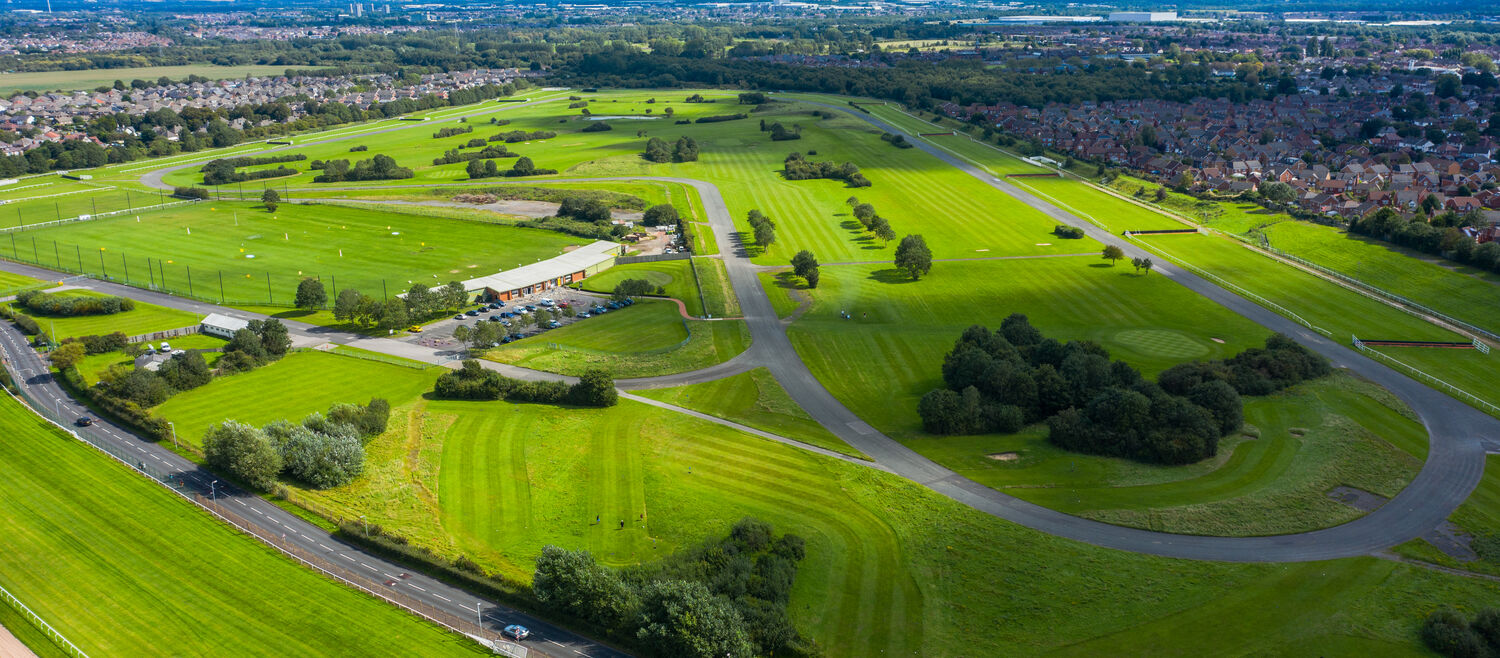 (above) Aerial photo of the Club Circuit courtesy of Aintree Golf Centre
How do you drive Aintree?
The Hillclimb & Sprint Association's website has essential guides to competing at Aintree written by  Steve Liptrott, and Gary Thomas. Each driver has achieved 'Fastest Time of the Day' at Aintree Sprints so they definitely know how to drive Aintree and their guides are well worth a read.
Also see A Lap of Aintree – Really Helpful Advice written by our regular Aintree ARDS instructor, Andrew Whitehouse. Whilst it is intended for track day drivers, and therefore includes Club Corner, it contains vital information about every corner on the circuit. You will learn something, no matter how competent you believe you are!
(above) Aintree Club Circuit
(above) As it was – the 3-mile Grand Prix Circuit, 1959
There are many photos from the Grand Prix days in the Liverpool Echo archive, though some of the captions are not altogether accurate! (Opens in a new tab)
---
Aintree Circuit – Venue Hire
Aintree Motor Racing circuit is located within the Aintree Grand National horse racing course which is owned/managed by Jockey Club Racecourses Ltd. The venue also features a 9-hole golf course, a golf driving range and a FootGolf course all of which have to be closed for motorsport events to take place.
Liverpool Motor Club does not handle bookings for other organisations wishing to use the Circuit. Such enquiries should be directed to nick.percy@thejockeyclub.co.uk  or tel 0151 523 5157
The venue owners do not normally hire out the circuit for any activity that necessitates the closure of the golf attractions.
---
Last updated 14/3/2023